Sewing Thread:
Sewing threads are the basic elements of making any kind of apparel so it is highly needed to calculate actual consumption for making any item. The needed quantity of threads for sewing a garment is called thread consumption per piece garment. Now if we multiply by 12 then it is called consumption per dozen. In previous, we have published many articles on sewing thread calculations. You can find them in the below article also. Now I will write on factors of sewing thread consumption.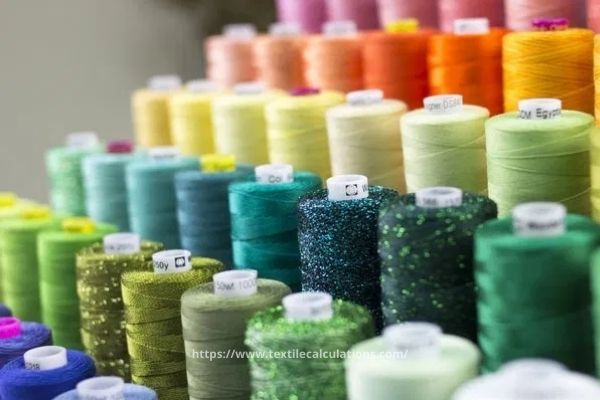 Factors of Sewing Thread Consumption:
Thread consumption depends on the following factors:
The thickness of the fabric.
Plies of fabrics to be sewn.
Stitch type.
Stitch density.
Width of the seam.
Size of the garment.
Design of the garment.
Automatic thread trimming or manual thread trimming.
Skills of the operator.
Quality of thread.
If there is no signal for bobbin thread finishing or signal of bobbin thread finishing.
If-order quantity is less or small.
If color per order is maximum.
You may also like:
Importance:
It is very essential for estimating exact garments costing. Sewing thread is required for seam sewing /assembling, overlocking, various types of stitching, buttonholing, label attachment, etc. Clear conception in thread consumptions calculation of garments is essential for every merchandiser to estimate the total number of cones required for a specific order and to purchase the sewing thread accordingly.
For disciplined garments costing, it's a very important issue to know sewing thread consumption. Besides, it is important to know the amount of thread consumed in a sewn product. We often need to figure out thread consumption of various items like shirts, Shorts, Tank tops and Pants, etc. Thread consumption means how much thread we need to stitch a product.
Author of this Article:
Mayedul Islam
Merchandiser at Fashion Xpress Buying House. 
Badda, Dhaka, Bangladesh.
Email: [email protected]